Welcome to the North Wales Folk Music Wiki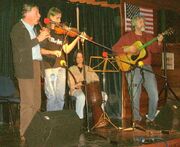 North Wales Folk Music Wiki is a different sort of website.
The main difference is that anyone can add pages or edit the content here, just like wikipedia.
The type of music isn't restricted to Folk Music, but it must be broadly defined as either; acoustic music performed by local musicians and singers, or acoustic music performed by musicians and singers visiting North Walean venues and clubs.
It's linked to some other music websites in North Wales already, please let us know if you'd like to link to North Wales Folk Music Wiki too.
We will happily add a top level page for your club or enterprise if it is broadly in line with our stated interests.
These Pages already exist in this Wiki:
History, Conwy Folk Club, Rhyl Folk Club, North Wales Bluegrass Festival, Bangor Tap & Spile, Holyhead Uchledre Centre, Performers, Ruthin All-Styles Music, Key Individuals.
You can - in the cases where a website exists - find a link from the Wiki page to the relevant website.
We hope that you will come back often to read and to write articles, reviews, or anything else that takes your fancy!
How to join in...
First register with Wikia (link above).
Then click the (edit) button next to any heading, and start typing.
Please be aware that if you add something objectionable, it will be removed and you will be blocked from editing from then on!
Breaking News...